Ready to transform your BPO hiring?
Vervoe has tested hundreds of thousands of candidates for some of the world's leading BPOs. With immersive skills assessments and the most advanced AI to test a range of skills from communication to resilience - you can take the guesswork out of hiring and focus on delighting your clients.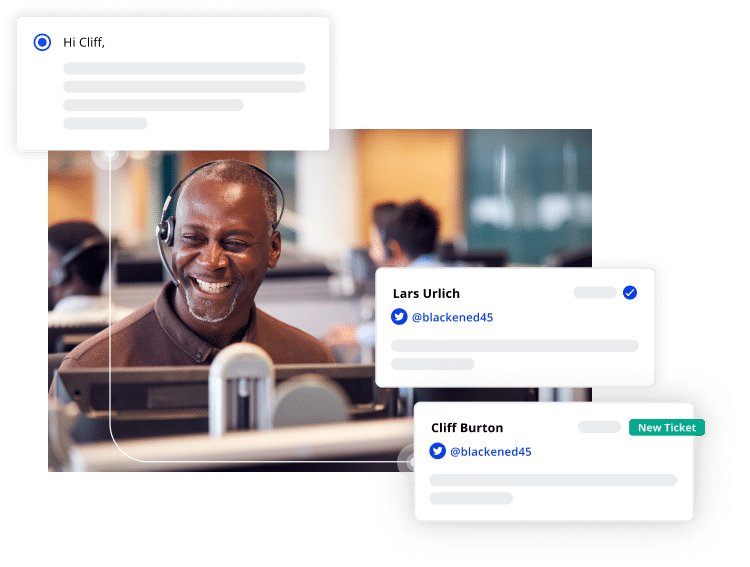 Speed up your hiring process with AI-powered BPO recruiting software
See who can actually do the job and surface the most qualified people based on how they perform tasks specific to your business, so you can stay focussed on scaling.
Test technical skills for customer service, accounting, HR and more with interactive question types, and virtual task-based outcomes.
Test soft skills like communication, interpersonal skills, and resilience to find the right match for your role.
Purpose-built for BPO hiring
Vervoe's proven approach to BPO and volume hiring helps you reduce your time-to-hire and uncover the best-performing employees. Vervoe combines engaging and immersive skills assessments with the most advanced AI to test a range of skills from communication to resilience.

Assessments are mobile-friendly and engaging so your candidates will enjoy the process and you'll spend less time on unsuitable applicants. Instead of manually reviewing resumes you'll end up with a list of candidates ranked in order of their performance.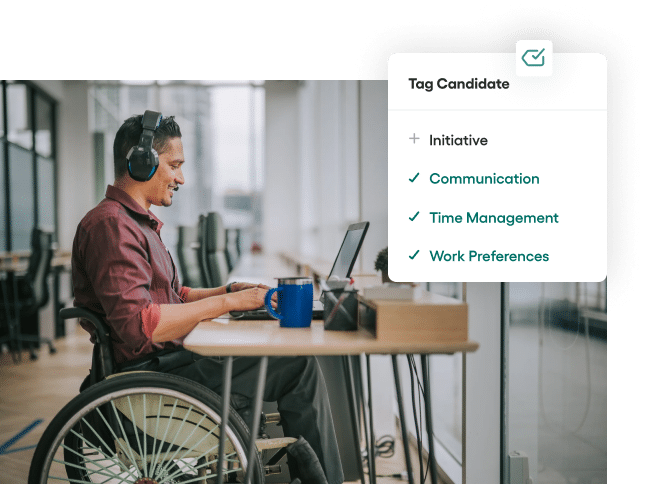 Recruit with candidate pools
Vervoe allows you to create different assessments for different stages of your hiring funnel. Link candidates directly from your careers page to a screening assessment that will help you create a shortlist of potential candidates.

Once you're ready to start making hires, invite the shortlisted candidates to complete a more in-depth assessment aimed at the skills required to be successful in the role.

Make the process engaging by adding your branding and story so candidates learn what it's like to work for you as they progress.
Data for decision making and scale
High turnover rates and unsuitable applicants can make recruiting for BPO roles feel like an endless process. Vervoe cuts out unnecessary steps like manual screening and automating candidate progression and rejection in your recruitment process and lets you easily identify and track top performers throughout your process.

Once you've tested your candidates you can drill into their ability with in-depth report cards that highlight their match and help you predict on the job performance. See overall scores, breakdowns per skill, ranking, and benchmarks. You can even deep dive into a particular skill like culture fit to see how they measure up against your other applicants.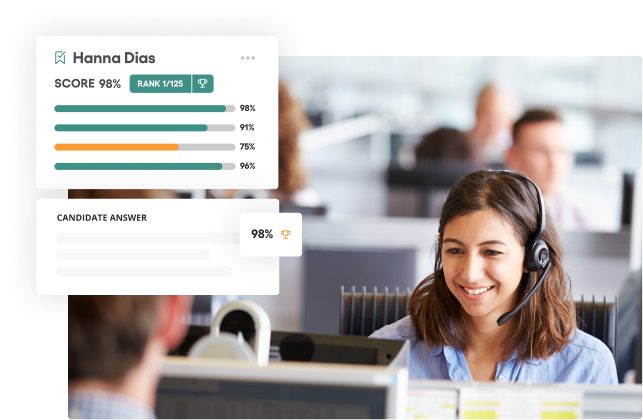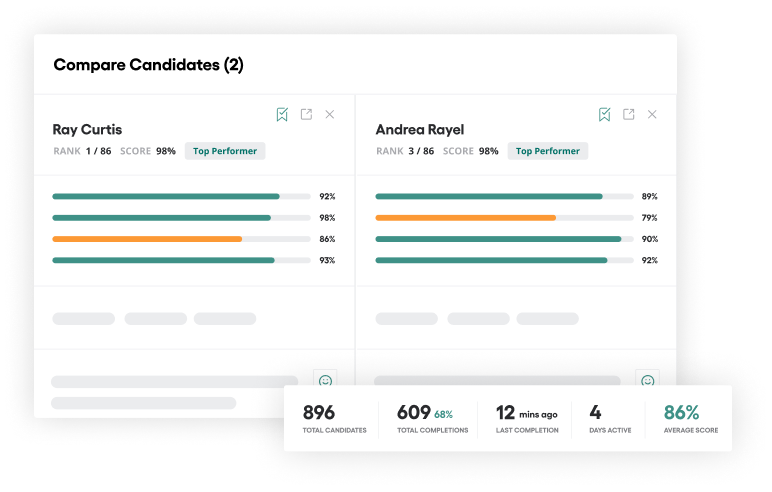 Find top performers instantly with Artificial Intelligence
If you're hiring a new employee, you might be looking for someone with strong communication and time management skills.

Our AI models quickly process thousands of responses, looking for specific words or sentiments that accurately reflect these values.

Candidates that have more of these are graded higher, and those with less are scored lower.

Qualify candidates and surface top performers quickly so you can hire with confidence and trust.
Find the perfect assessments 
for every role
The skills tested in this assessment for a Customer Service Manager include their ability to communicate effectively with their team, and their capability to solve problems (team and client related) their patience, and how they would adapt their leadership style to particular staff interactions and situations.

Vervoe increases the interview-to-hire success rate, and streamlines the candidate selection process knowing that the candidate will be right.
From engaging question types to customizable candidate experiences, we're here to make your hiring simple with our BPO recruitment software
Range of customizable templates written by leading I/O Psychologists for your hiring managers to use for BPO hiring such as (but not limited to) call center, accounting, payroll, and admin roles.
Shareable candidate scorecards that let you collaborate quickly with your hiring team on shortlists for faster talent acquisition.
Generate your own cloud based assessment in real time. All you need is the job title, and our data driven tech will do the rest to help you test skills essential to your business.
Link directly from your career site, job boards, or social media platform and test candidates as they apply, so you'll only spend time on top performers.
Automatic Grading & Ranking
Every applicant is graded and ranked by our AI in order of performance for the skills that matter most to you—helping to surface candidates from underrepresented groups that might have previously been overlooked.
Create a seamless candidate experience with customizable emails and videos for branding. No more scheduling interviews or Google Hangouts as part of your screening process.
Confidently test and evaluate candidates from anywhere in the world and improve your diversity sourcing.
Frequently asked questions
More resources you may be interested in
Join these businesses already hiring great operations and services people